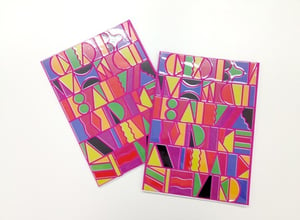 $

30.00
Sammiches is a collection of 51 international artists' interpretations of the much-loved icon that is the giant cartoon sandwich. It is a massive 10″x14″ full-colour, perfect-bound, coffee-table conversation starter that will change the way you look at sandwiches forever.
This deluxe edition is finally seeing the light after more than a year's worth of planning and production. A huge collection of contemporary artists working in an array of media including sculpture, comics, collage, illustration, painting, photography and design has contributed an original, previously unpublished image to this book.
Each copy has a screen-printed vinyl dust jacket in one of 5 different colours and has been hand- assembled at Star Gods Press.
Artists in this anthology:
Matthew Allison/Derek M Ballard/Josh Bayer/Morgan Blair/Andy Burkholder/Noah Butkus/Celeste Byers/William Cardini/Max Clotfelter/Sara Cwynar/Michelle Devereux/Jason Fischer/Erin Green/Viktor Hachmang/Anna Haifisch/Clay Hickson/James Hines/Ryan Humphrey/Ben Jacques/Nathan Jones/Brennan Kelly/August Lipp/Chris McD/Allan McEvoy/Jesse McManus/Kyle Mowat/Leisha O'Donahue/Mark Oliver/Michael Olivo/Marc J Palm/Nathan Prouty/Puck/Rand Renfrow/D'Metrius Rice/Joel Rich/Julien Rivoire/Brad Rohloff/Hania Stella-Sawicka/Tom Sewell/Smithe/Alex Schubert/Jordan Speer/Hattie Stewart/Alex Stursberg/Pete Toms/Benjamin Urkowitz/Jordy van den Nieuwendijk/Jon Vaughn/White Swallows/Joshua Wiley/Eric Yahnker
Some preview images from SAMMICHES.
Edition of 600
10"x14" on 100lb glossy stock
perfect bound/full-colour digital pages/full- colour offset cover/1 colour screen-printed dust jacket